Why Buy at Shepard Toyota?

Customer satisfaction is our top priority at Shepard Toyota. Our family-owned and operated dealerships have been in business for over sixty years. Each generation has passed down our love of cars —and helping people — to the next generation. At Shepard Toyota, we listen to you and treat you like a part of the family, so you feel completely comfortable. Visit our showroom or our website to purchase a new vehicle, a pre-owned vehicle, or to ask us any questions you may have. We are here for you every step of the way.
Shepard Toyota aims to be the best in the industry. Our outstanding, professionally-trained sales team will help you find the perfect new or used vehicle. Flexible financing solutions are available, and we can help you find the right loan or lease for your situation. You will feel the Shepard difference when you choose to work with us.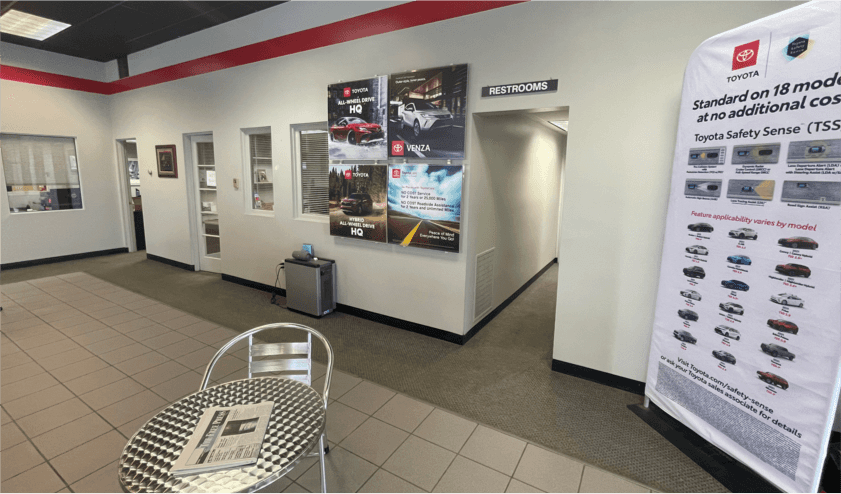 Shepard Toyota Showroom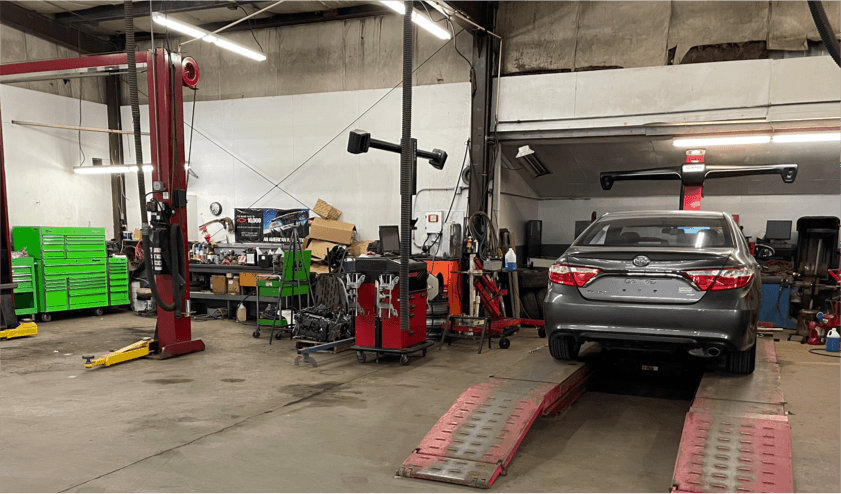 Shepard Toyota Service Center
After you drive off our lot, we remain committed to you. Whether your vehicle needs routine maintenance or a major repair, our award-winning Service Center team will keep it running in peak condition for years. Check out our service specials and even schedule service online.
If you are local to the Thomaston, Rockland, or Rockport, ME, area, your Shepard Toyota family can help no matter what your automotive needs are! Feel free to do some research ahead of time, apply for financing, or use our quick payment calculator. We are here and ready to help you at Shepard Toyota, so please call us at 207-594-8424, contact us online, or stop by and see us at 181 New County Road. We are ready to work with you!
Our Reviews
Nice people working in service dept. I'll go back.
I have purchased 2 vehicles in the past with Shepard's and both times were favorable and this time is no different. I worked with Bill Carr and he is great to work with. He had his work cut out for him dealing with me because I'm so hard to please but Bill worked everything out to my satisfaction and so we sealed the deal. Will always come back to Shepards.
Service was done quickly and satisfactorily. Called for an appointment for an oil change and tire rotation. Disappointed it took 30 days before the appointment could be scheduled.
We have had a very positive experience buying a new car and trading in our older one. Bill Sr. was attentive, not pushy and very knowledgeable, and even scraped off our dump stickers to reuse; Bill Jr. was helpful with a title issue, and Tyler in Parts called to ensure we knew the cost of some accessories. Seamless, comfortable, and a very responsive dealer.
Not too bad of a place... I have a Tundra that had the frame recall, they replaced my frame and other things they noticed along the way at cost... no issues there...Just recently took my truck there for some maintenance... they found more things along the way, the bill was up there... but its a dealership you gotta expect to pay big 💰 there. But even so they gave me a pretty good discount... they took care of me pretty good there...So I'm not even mad at that... Once they completed the work they took it for a ...
Great experience buying a car at Shepard Toyota! Bill and his son were helpful, informative and no pressure. They have a good range of available vehicles at fair prices.
If you want to boost your business with 5 star reviews contact us on WhatsApp +923496002462 Instagram. saifalshabir1
Austin did a great job keeping me updated on how things were going trading in my old car and getting a new one. Darryl (I can't say enough about him). He went beyond what I expected to get me the car I wanted for the price I wanted.
Buying my past two vehicles at Shepard Toyota, working with both Bill's on their team was a easy process, no funny business or outlandish markups. They treat you like family, providing a seamless buying experience at a fair market price. Highly recommend purchasing through Shepard, and getting your vehicles worked on by them, best dealership to deal with in the State of Maine. Thank you for making my Highlander purchase such a easy experience.
Buying my past two vehicles at Shepard Toyota, working with both Bill's on their team was a easy process, no funny business or outlandish markups. They treat you like family, providing a seamless buying experience at a fair market price. Highly recommend purchasing through Shepard, and getting your vehicles worked on by them, best dealership to deal with in the State of Maine. Thank you for making my Highlander purchase such a easy experience.
Just purchased a new vehicle with Kris McMahon at Shepard Toyota. Incredibly smooth experience, very happy with my purchase. Kris walked me through all the features and how to use them on my new car. Super impressed!
Kris and the rest of the team did an amazing job! I will definitely be recommending Shepard Toyota to anyone looking for a vehicle!!
We're at the shepherd collision for auto repair they did a fantastic job 👏 great service 👏 👍
Excellent customer service. They even stayed more than an hour after hours to accommodate our time schedules. Very pleased with Shepard's. Would definitely recommend them to family and friends.
We recently took in a 2015 Toyota Tundra for new brakes. Due to undiagnosable issues, the first bake job was not quite right, but Shephard's management stepped up to make sure that in end, we were 100% satisfied. Thanks for all your hard work and not giving up to work it all out.
"The salesman Austin was extremely friendly, knowledgeable, and helpful with getting me into my 2022 Jeep Compass Latitude 4x4! The process was quick and painless. They delivered my vehicle to my house the next day! Go to Shepard Cars…they take care of you!"
Go see Kris the sales guy
Salesman Steve put up with my high energy,, and endless questions.. We enjoyed a no pressure sales atmosphere and appreciated the full transparency. Weeks after we purchased our 2017 f150 Ecoboost.., Steve followed up with a couple messages making sure we were happy and found a good fit. Can't say enough about how wonderful the overall experience was purchasing a vehicle at Shepard!!! They earned our business and loyalty for years to come
Very friendly, professional and knowledgeable. RAV4 PRIME (Plug-in) are in short supply compared to demand. Helped us get exactly what we wanted fast compared to expectations. Transaction was smooth. Couple of phone calls could have been returned on more timely basis, however, overall very, very happy with Shepard.
Hands down this is the best car dealership there is. From purchasing your car to Maintance of it they definitely treat you like family. Hassle free! They are on top of it.
I have ALWAYS hated car shopping, I will never buy a vehicle anywhere else. Hands down the most amazing car buying experience. Great staff, no pushy salesmen
I worked with Bill and Bill jr. on my new car purchase and they were absolutely amazing and friendly and i would suggest coming here to absolutely anyone!
A great team of associates at Shepherd Toyota....I'd recommend calling and asking for Corey if you are buying a new or used vehicle. Very patient and informative and a lot of fun too. The general manager took time and stopped by to introduce himself, also other associates were pleasant and genuine while talking to you while you waited....a true family feel. I have worked at six different dealerships and purchased at probably 20....this was the best experience HANDS DOWN!
SUPER STOKED to be driving a truck home. Huge thank you to Ian and Bill for making this happen. We will be returning again when the wife needs a new vehicle and when the kids are driving.
While driving home from Maine to Virginia, our check engine light turned on. We called in desperation and they saw us immediately. Ran a diagnostic, and everything was actually fine. They where very knowledgeable and kind, will come back in a heart beat. Professional and understanding.
Excellent Experience! Steven was great to deal with and has followed several times since the sale to check in! Very happy with my truck! Highly Recommend doing business here!
Excellent customer service no pressure Will definitely return Prices below competition Salesman friendly not aggressive attentive Financial manager is pleasant and so easy to work with
Bill Carr Sr and Jr are the best.. 5 stars for them!!!
Shepard is my dealership for my Toyota. They have a very professional service and body shop. Prices are fair. They work as quickly as possible all the time. I have had positive experiences 100% of the time after a dozen appointments. I highly recommend Shepard Toyota.
Had a great experience purchasing my 2020 Cherokee thank you Austin for everything and being more then willing to work with the very little time I had to do so!
Im very late on sharing this but I went there to get a car last year and the associate Peter was very helpful and helped me find the car I was looking for with no problems. Excellent service and very professional.
My family and I got locked out of our car at the storage units across the street. Brett and Hayden were an incredible help to get us back into an older Toyota Avalon. They went out do their way to help us. Cannot thank them enough!!
Sales man was excellant. Explained all I needed to know to make a purchase. No high pressure. Very Happy with my 2021 Ram 2500 Diesel. Will be back in 3 years. Service department is also very good.
Kris in the sale department was amazing. I would highly recommend working with Shepard Toyota. It was a fantastic experience.
Fantastic job in buying the truck, no hassles. Good straight forward people, will recommend them to fellow friends or buy another vehicle from them. No hidden strings attached
I've only dealt with the parts department but very helpful. A couple of times they have told me I needed another part with the parts I'm getting... They have been write everytime so that saves trip and hassle, and that's awesome.
I highly would recommend to my family and friends, customer service was outstanding Steve was special, he's the best . My experiences I could feel the love awesome guy's great job.
Had routine oil change and fuel pump replaced due to recall. Very friendly and quick service.
Peter was polite and helpful. I drove well over an hour to look at a used Prius but it wasn't up to snuff. But they were honest and I will shop there in the future.
We drove almost 3 hrs to Shepard Toyota to purchase a sweet 2018 Toyota Carmy Se. which we absolutely love. Peter and Bill Carr Jr are top notch #1 guys. I recommend Shepard Toyota for anyone looking for a great deal.A++++++++++
JJ was an amazing salesperson. He went above and beyond to make sure that the vehicle I was interested in was in perfect condition by the time we got there, was well mannered, perfectly prepared, and made the experience the best one I have ever had! I would highly recommend if you're in the business for a new vehicle, to go to him for service!
Very satisfied thank you Ian great sales man!
Terrific job every time! I wouldn't even think about going anywhere else! The service department has gone over and above my expectations Highly recommend if you have a Toyota!
Great service as usual A+++++++
Recently Bought a Tundra from these guys and it was a wonderful experience. even though I knew what I wanted when i got there Bill Sr. was great and helpful. Took it for a test drive and then started the paperwork. in and out as quick as can be. great bunch of guys they have working there. would definitely work with them again in the future!
They are amazing! Great negotiation and my salesman has followed up several times to make sure my vehicle is working great. HIGHLY recommend.
Just bought a car there today, couldn't be happier. Peter Gardner reserved the car I wanted a few weeks back, and he made sure it was out front and waiting when I arrived, clean and polished. All of the paperwork was ready to go, I was in and out in about 10 minutes, which included some chit chat. Everyone wore masks, and there was hand sanitizer available. Additionally, Peter and team were completely transparent about costs. He shared a purchase agreement outlining costs two weeks ahead of time, and it matched to the penny when I arrived today. No hidden ...
I could not speak any higher of the folks over at Shepard Toyota. Being a first time new car buyer was a breeze going through them. In a world where salespeople tend to give you the run around and get you in extra fees and costs, Shepard Toyota is honest and works hard to assist you in the car buying process. From the time I first called till over a month later while I waited for my car to be built. Peter Gardner helped me every step of the way. I couldn't be happier with my purchase of the 2021 ...
Peter Gardner was my salesman and was fantastic to work with. Didn't hound me with spam emails or phone calls, no pressure tactics, and most importantly he found me the vehicle I wanted. The process with Peter was so easy it almost didn't feel like I was buying a car. This is my third Toyota and first from Shepard. The fourth Toyota will come from Shepard as well.
I bought a Toyota 86 a few days ago at Shepard Toyota in Thomaston, ME. Never in my life has buying a car been so quick and pleasurable. My salesman, John Jolicoeur, made my experience smooth and satisfying. I love my car and I love Shepard Toyota!
I bought a used car, a Toyota Highlander, from Shepard's Today. I live in the area and my wife and I have been having service done on our older Toyotas here for years. We have always felt that our cars were well cared for by the service department. The usual routine maintenance, recalls and even unexpected maladies. It was natural then, to include Shepard's in our search for a new used Toyota. I have had several pleasant exchanges with Peter Gardener in Sales over the years when getting an oil change. When our search narrowed down to one ...
In a world where it is easier and easier to do the wrong thing and legally get away with it, Shepard Toyota went above and beyond today to prove they're not like that. They technically were within their legal rights to charge me for work that I didn't know was going to have to be done soon when I bought my used Tundra from them 3 months ago. They made it right, and it blew me away today. Thank you Richard, and the rest of the team in the service department. You really showed me what you're made ...
Nice dealership, friendly, knowledgeable staff. Learned a lot from Peter, thinking about leasing now. Never have before!
Great place because of the great people. Took care of my 2018 Tundra Making sure all was ready for a long road trip. Friendly & helpful staff. I highly recommend this facility.
My husband and I stopped by just this week to claim our "prize" but were welcomed at the door by the Matt and Mike team (not from around here 😜). They were awesome!! Never dreamed we were buying a car that day but some how we left with an awesome deal, an awesome 2016 Jeep Cherokee and needless to say an awesome experience. Thank you Matt and Mike for all your help and laughs.
I had my case repaired there. The repair shop was friendly and kept you informed throughout the repair! I can't give it 5 stars because I don't know how the dealership is, and I don't want to misguide you.
Good local car dealer. All there used cars come with a 6 month 6,000 mile warranty. Better than the big boys up in Augusta
Shepard Toyota truly goes out of their way to provide the best service. I have bought my last 2 vehicles from Peter Gardiner, and I recommend him to family and friends. Both times, the buying process was smooth and easy. He always treats me with dignity, honesty and respect, and that means a lot to me. I am a customer for life. If you are in the market for a new or used car, go see Peter. You'll be glad you did.
Shepards offer a great variety of vehicles as well as great customer service. They do a good job matching a vehicle for you and they help you out with budgeting. They are very real people and know what works best for your circumstance. They will help make decisions as well as let you know what each vehicle is all about. The process was very fast and they certainly know what they are doing. I met with several of the salesman and they all were very friendly and were acting like real people and not someone that just wants to make ...
Staff are super quick at helping out and has decent prices here. They have a waiting room for something quick and they are really good at communicating to their customers. Overall, it has been a great experience coming in here as well as friendly service that can help you learn more about your vehicle.
We purchased a Toyota Highlander SE working very closely with salesman Peter Gardner. He was quick to respond to phone calls and emails as we were very specific to what we we wanted for our next vehicle. The entire team the final day I picked up our new car was very friendly and quick to get us on the road home with our new car! Just what you would hope for from a family run car business. Thank you!
Very quick,in and out in a half hour
I like working with this dealership. My home dealership is in Mass and Shepard is very accommodating. Saves me long drives for routine service
I bought a used, 2013 Toyota Rav4 here about 3-4 months ago, my wife and I love it.
Its good if you are looking for a truck
Buying a new car is exciting, stressful and for us, time consuming. We shopped around, looking at Subarus and Toyotas. Peter Gardner, at Shepard Toyota was friendly, knowledgeable, and always returned phone calls and emails. Our gut told us to go with him, but we still kept looking, searching for the perfect car and perfect deal. We would have saved ourselves a lot of grief, if we had just followed our instincts, but we kept looking. Eventually, we found our way back to Peter. He was and is the BEST. Don't waste your time looking anywhere else. He offers ...
I can't say enough good things about Shepard Toyota. My family has been buying cars from them going all the way back to my grandfather. The staff there is very polite, professional, and helpful. They know the answer to almost any questions you have and they treat their customers with the highest respect. I would recommend Shepard Toyota to anyone in the market for a new or used car.
Pleasant and friendly staff.
Had problems with the cruise control system on my 2018 tundra. Service department got me in right away. Reset the software and did my 15 K maintenance as long as I was there. Runs perfectly. Minimal charge. Would definitely go again!
We bought a 2019 Prius AWD-e this week. Peter Gardner was our salesperson and he went above and beyond to help us with a quick sale and get us familiar enough with the new technology to feel comfortable immediately. A great place to buy a car. Carolyn and Don Maunz
Just bought a new car at Shepard Toyota. It's a great place with which to do business. Peter Gardner was my salesman, and he went way out of his way to find me the perfect 2019 Rav4.
Bill Carr Jr was our salesman he went above and beyond our expectations to help us purchase our new truck. He was patient with us answering all our questions and returning all our calls. The truck was for my husband, I own a Toyota Camry when I decide to get a new one I will definitely seek out Bill Carr Jr.